Almindelige grammatikfejl i delprøve 1 (A-niveau)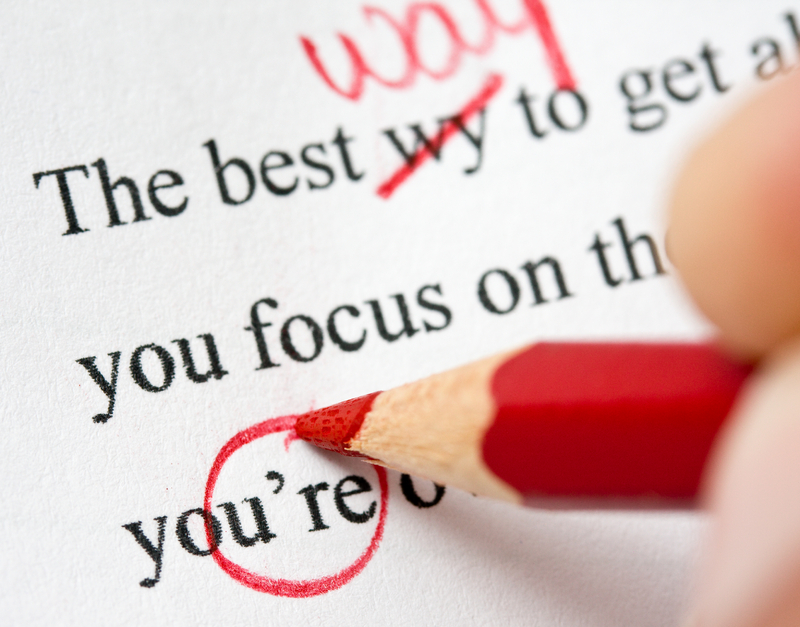 Fejlene nedenfor er almindeligt forekommende i fejlretningsøvelsen i STX A-niveau delprøve 1. Det er en god ide at lære listen udenad. På den måde kan du rette rigtig mange af de mest almindelige fejl.
Derudover er det en god ide at lære ordklasserne at kende, så du i det mindste altid kan definere den ordklasse, der er fejl i. Der er ordklasse-øvelser her.
Brug din sunde fornuft i fejlrettelserne - og hold hovedet koldt.
1. Kongruensfejl:
Eksempler:
There is are still many unanswered questions.
The Vice President of the company is an elderly man who have has the respect of his employees.
Fejlbeskrivelse: kongruensfejl. (Der skal være overensstemmelse mellem verbet og subjektets tal og person. Ental i subjektet skal følges af ental i verbet. Flertal skal følges af flertal.)
2. Ordstillingsfejl:
Eksempler:
When they flunk their exams are their possibilities their possibilities are ruined.
In other words would we we would like to welcome you to Spain.
Fejlbeskrivelse: Der er fejl i ordstillingen. Engelsk har normalt ligefrem ordstilling. (Dvs. subjektet er placeret før verbet. Engelsk har kun omvendt ordstilling (som i eksemplerne) i spørgende hovedsætninger og hvis sætningen indledes af visse adverbier - som f.eks. rarely, not until osv.)
3. Verbalfrase-fejl:
Eksempler:
He doesn't seems seem to be alive.
Have you ever ran run a marathon?
She had always wanting wanted to become famous.
Fejlbeskrivelse: Der er fejl i verbalfrasen. Hovedverbet står i forkert form.
4. Adjektiv/adverbium-fejl:
Eksempler:
She is an extreme extremely beautiful woman.
He had an extremely extreme experience.
Fejlbeskrivelse: Der er fejl i adverbium/adjektiv. Adjektiver lægger sig oftest til substantiver og pronominer, medens adverbier lægger sig til adjektiver, verber, hele sætninger og andre adverbier.
5. Præpositionsmønster-fejl:
Eksempler:
He was informed of that he was fired.
She talked about that the fact that she had to give up to eat eating ice cream. Eller:
She talked about having to give up eating ice cream.
Fejlbeskrivelse: Der er fejl i præpositionsmønstret. På engelsk kan man ikke have that-sætninger efter en præposition. Præpositioner må heller ikke følges af infinitiv.
6. Fejl i uregelmæssigt verbum:
Eksempler:
He was striked struck by lightning.
She seeked sought for information about her father.
Fejlbeskrivelse: Der er fejl i bøjningen af verbet. Verbet er uregelmæssigt og bøjes derfor ikke med -ed.
7. Manglende støtteord:
Eksempler:
The most incredible was that she was alive.
She has two cars but always drives the green .
Fejlbeskrivelse: Der mangler støtteord. På dansk kan adjektiver godt stå alene, men det kan de normalt ikke på engelsk.
8. Pronomen-fejl:
Eksempler:
She compares herself with Bruce which whose concerts are amazing.
He is the person whom who wrote "Born in the USA".
There is no rock star there who is better.
Fejlbeskrivelse: Der er fejl i det relative pronomen (who, whom, whose, that, which). Who og whom bruges normalt om personer. Which bruges kun om ting. Whom bruges i skriftsproget efter præpositioner (To whom did you speak?) og i formelt sprog når pronomenet fungerer som objekt (genstandsled) (Whom did you talk to?) Whose er genitivsformen (Whose phone is this? He bought the house whose roof was red.)